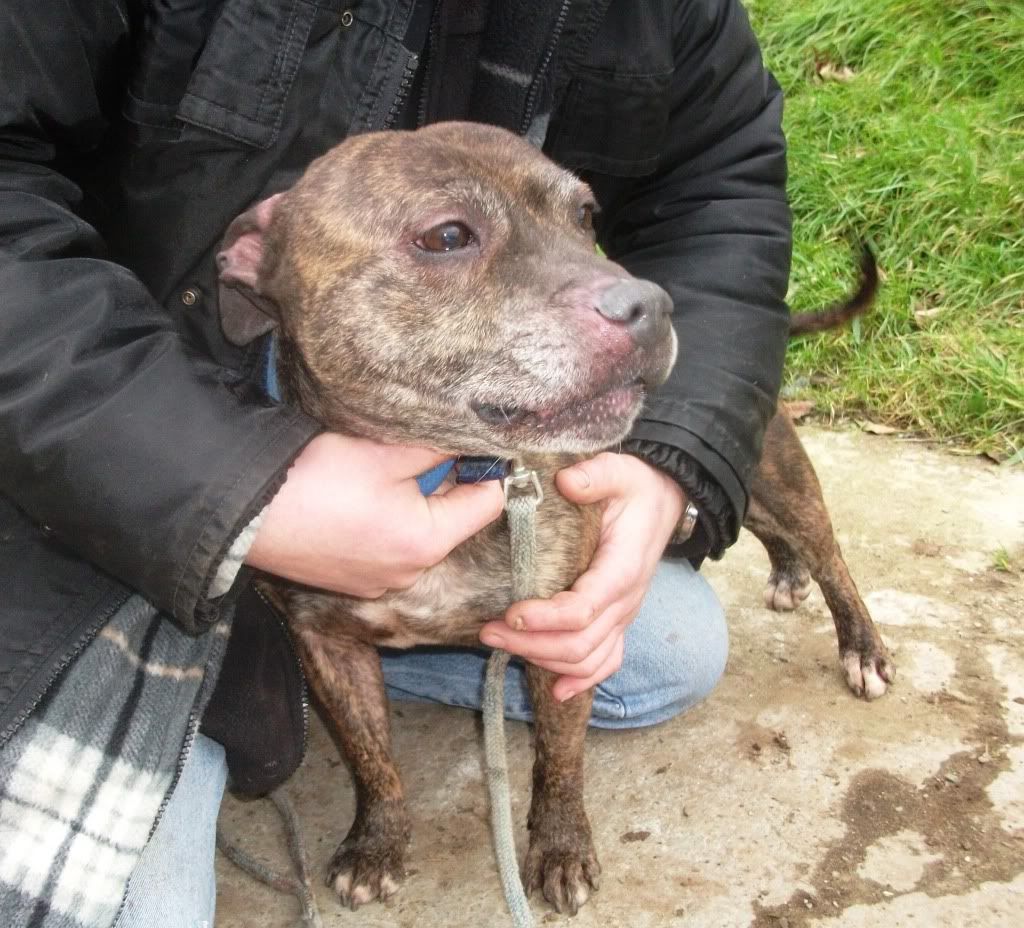 Chelsea is a brindle Staffie, approx. 6 years of age who's looking for a new home after being picked up as a stray.
She came in to rescue care last May and is currently being cared for in kennels in West Wales. She's been waiting for her new home for quite a while already and she needs a special someone with the experience and patience to help her calm down and learn some basic training after being neglected and abandoned in her past.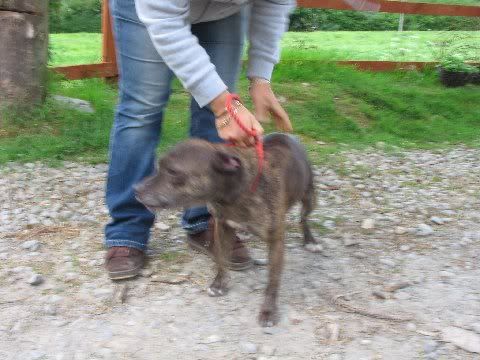 Chelsea is around 6 years old and seems to be in good physical health. She is full of energy almost to the point of being hyperactive (she doesn't "do" standing still long enough for a decent picture!) therefore will need a home with an experienced handler who has the time and patience to help her calm down, overcome her anxiety and introduce her to a world that consists of more than just 4 walls.
Chelsea will have to be homed as an only dog as she does not get along with other dogs or cats. She is very loving to humans and likes a lap to sit on.
Basic training will be needed as she does not have much idea how to behave in social situations yet.
We are yet to her assess her with children but will be posting updates when her assessment is complete and of course any progress she makes whilst in our care.
August 2011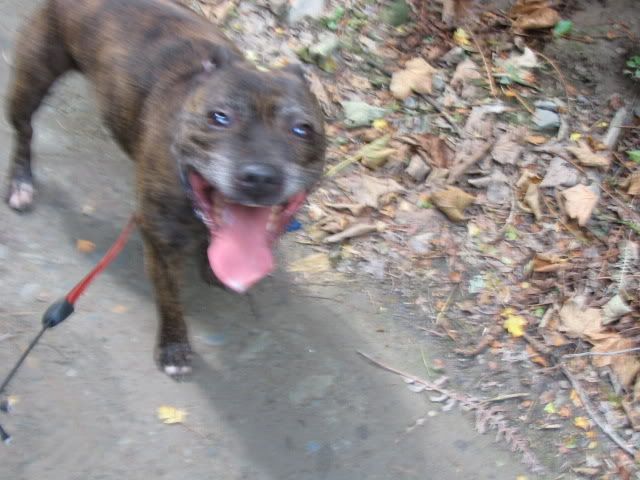 We finally have some more pictures of Chelsea – not from want of trying but from her insisting on snogging the photographer and refusing to stand still! This little dog is a totally blank canvas who could be helped to become the perfect lapdog (well, that is what she likes best!) by the right home – and if we were offered a foster home to help her on her way we would jump at the chance.
September 2011
Poor old Chelsea – no interest at all. She may be able to live with another dog as she has improved so much in her attitude…. obviously careful introductions and a few meetings would be needed first!
October 2011
Poor Chelsea, overlooked for so many reasons
She is a staffie
overcome that
She has no training
overcome that
She loves it so much at the kennels getting fed and attention she gets very anxious away from them
December 2011
"I really love the people at the kennels, they cuddle me, they feed me, they calm me down, they keep me warm, they look after me – all the things I never had before I came to them, and I know I can safely live there for the rest of my life, but they get very sad and say they wish someone special would come along to show me what a real home is like. They say people will look at me and go oh no because
I am a Staffie
I am middle aged
I am a Staffie
I have had no training
I am Staffie
I get very anxious when I am taken away from the only security I have ever known
I am a Staffie
Someone did come to meet me and we fell in love, he was going to take me home at the end of his holiday and we went out for walks a lot. I was not scared when he took me out. I have not seen him for a long time, he changed his mind.
I would like someone to become my whole universe, my reason for living, my adored human – is it you?"
---
You can stay up to date on Chelsea's progress on her forum thread here
To enquire about adopting Chelsea or to find out how you can help her and other rescue dogs in her situation please contact CARE – Ceredigion Animal Rescue and Education
PLEASE SPREAD THE WORD BY CROSSPOSTING THIS ARTICLE AND USING THE SHARING LINKS ON THE LEFT OF THIS PAGE. Thanks!